Speaker stands not included.
Highlights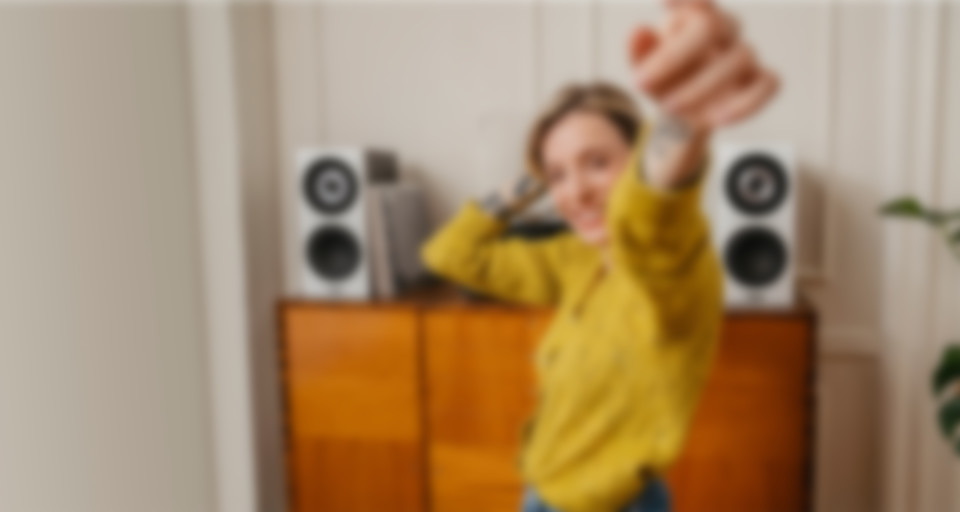 Why we love this product
The DEFINION 3S are the latest addition to our reference-class DEFINION range. High-end technology like the SCA coaxial enclosure, wok woofers, and precision bass reflex channel give the DEFINION 3S their transparent sound and powerful bass. Sleek trapezoidal design and lacquer finish round out this premium bookshelf speaker for those who place the highest demands on both sound and style.
Key advantages at a glance
High-end stereo bookshelf speakers with exceptionally precise sound reproduction, 3-way construction, come as a pair
Patented SCA coaxial enclosure adopted from the DEFINION 5 creates unequalled spatiality & dispersion pattern
Newly designed bass reflex system with intelligent precision channel for deep, precise bass
Long-throw wok woofers with carbon fiber diaphragms deliver high impulse fidelity and dynamics
Elegant lacquer finish in either anthracite or white enhances the sleek, trapezoidal wooden enclosure
Perfect for use with the DEFINION 3 as a surround sound system
Can be placed on a shelf, sideboard, or stand (for the Definion 5S)
Speaker stands not included.
Our Berlin-engineered SCA Coaxial Enclosure
Teufel spent two and a half years developing the DEFINION 3's unique flat diaphragm coaxial enclosure. SCA (Synchronized Coaxial Acoustics) technology allows it to act as a single point audio source, ensuring the least possible lag between midwoofer and tweeter.

Nearly all output frequencies reach the listener's ear at exactly the same time, resulting in particularly authentic and natural sound reproduction.


Sound dispersion
Like in the real world, individual sounds are perceived as coming from a single source. Sound is dispersed uniformly for identical audio at various listening positions.

Tweeter and midwoofer
The tweeter and midwoofer are fused together into a single element. This leads to a superior sense of space than can be achieved with a separate tweeter.

Flat diaphragms
Flat diaphragms avoid constricting the tweeter sonically. They vibrate air particles naturally on a single plane, preventing interference and producing more precise sound as a result.
Precision bass reflex system
A completely redesigned bass reflex systems uses a precision channel that eliminates nearly all of the problems that often occur with bass reflex systems. The precision channel's innovative qualities include:
A low crossover frequency to the SCA driver
The elimination of wind noise though a larger channel size
Special constructed molding and curvature of the channel for a deep resonance frequency
The exact dimensioning of the bass reflex channel ensures that the air rushing through it extends the bass range exactly where the woofer's low end leaves off.
Included components
DEFINION 3S
1 × Baseplate DEF 3S FRB (pair) – Black
2 × Satellite Speaker DEF 3S FCR – anthracite

4 × rubber feets for DEF 3 S (Set)
Speaker stands not included.
Specifications
Satellite Speaker DEF 3S FCR

High-end stereo bookshelf speaker with extraordinarily precise play back

| | |
| --- | --- |
| Width | 20 cm |
| Height | 42,5 cm |
| Depth | 35,5 cm |
| Weight | 13 kg |

| | |
| --- | --- |
| High Level speaker inputs | 1 |
| Terminal clamps | Gold-plated screw terminals |
| Minimum amplifier output power recommended | 25 W |

| | |
| --- | --- |
| Suitable for AV receiver | Yes |
| Suitable for banana plug | Yes |
| Maximum cable diameter | 6 mm |
| Equalisation openings (pos.) | Backside |
| Equalisation openings | 1 |
| Enclosure material | MDF |
| Enclosure surface | Lacquer, silk matte |
| Net internal volume | 14,5 L |
| Tweeter (number per enclosure) | 1 |
| Tweeter (diameter) | 25 mm |
| Tweeter (material) | Fabric |
| Midrange driver (number per enclosure) | 1 |
| Midrange driver (diameter) | 105 mm |
| Midrange driver (material) | Aluminium |
| Woofer (number per enclosure) | 1 |
| Woofer (diameter) | 160 mm |
| Woofer (material) | Carbon fiber |
| Continuous power handling (IEC - Long Term) | 100 W |
| Sensitivity (2.83 V / 1 m) | 86 dB |
| Frequency range | 50 - 22000 Hz |
| Peak power capacity (IEC - Short Term) | 140 W |
| Maximum sound pressure level | 105 dB/1m |
| Impedance | 4 - 8 Ohm |
| Crossover frequency to Woofer (recommended) | 60 Hz |
| Acoustic principle | 3-way-system |
| Enclosure type | Bass reflex |
| Crossover frequency internal switch | 450 / 3300 Hz |